Dr. Michael Casey Speaks on Art - Zest for Life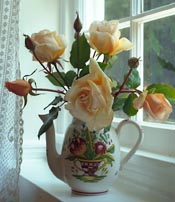 I am honored to be able to present this article to you. Dr. Michael Casey explains the relationship between art, food, and physical pleasure. It doesn't take much imagination to integrate gardening into this sensory experience. It would seem likely that a true artist is able to express himself or herself through the mediums of gardening or cuisine, and this gift comes about innately. While painting the garden, the artist becomes the garden. The nourishment is the garden. At times I have wondered about van Gogh's sunflowers, for instance. Van Gogh captured the sunflowers in a way that is so sensitive and expressive. (Could he have been a sunflower in another life? Funny how art evokes curiosity and fascination.) The spirit of the garden at Giverny comes to life to the extent that the plantings take on the qualities of the painter, Monet. There is always poetry in the garden at Sissinghurst. It is almost as if there is a kind of metaphysical cross-pollination between garden and artist-each taking on the qualities of the other until it is difficult to separate where one ends and the other begins. If the essence of the garden/artist is able to enter the second-party viewer that is how we know it is successful. We all experience these things through our own lens. Mirja von Knorring contemplates whether the garden like the kitchen does not exist, until it touches someone, and then the whole magic appears. Art is art is art. If we are expressly attuned we are able to create-the garden, the masterpiece the meal-D.F.

Dr. Michael Casey, the internationally acclaimed artist, art historian and critic, discusses the joys of Lorenza's de Medici's Tuscan cuisine and establishes some interesting anecdotes on food and art. Moreover, he provides a historical background for Mirja von Knorring's new book - Zest - which looks at Finnish artists and their kitchens.

Artists who cook and write about cuisine come naturally from a long tradition of culinary refinement. They have been born and raised in evocative locations such as the French provinces - Alsace-Lorraine, the Loire Valley or Massif Central - where mothers and grandmothers prepared copious feasts that daily united the family in the leisurely ritual of a meal. Great meals, as demonstrated in the recipes of Claude Monet, Auguste Renoir and Pablo Picasso have a technique, rhythm and harmony of their own. A well thought out dinner forms a culinary crescendo beginning with the appetiser, delicate, inviting and succulent, culminating with the fanfare of the main course, which is followed, finally, by the lyrical chords of the dessert.

"To accept an invitation to dinner," as Édward de'Pomiana writes in his perceptive essay on The Duties of a Host, "may or may not be a pleasant experience.... On the other hand, to invite relations, friends or business contacts to a meal is a most complicated business. You must... be responsible for their happiness whilst they are under your roof. But a guests happiness is a matter of infinite complexity. It depends on the host himself, on his humour, his business interests, his pastimes, the character of his wife, his education... his artistic sense, his inclination to mischief... and so on and so forth." In the end, de'Pomiana's message is simply that the issues mentioned above are not worth worrying about. To prepare a dinner for a friend is to put into the cooking pot all one's affection and good will so that after many hours of faithful preparation a waft of felicity escapes from beneath the lid. The film based on Baroness Karin Blixen's book, Babette's Feast, set in a remote part of late nineteenth-century Norway, is an excellent example of how the taste-buds of a god-fearing community are awakened and transformed by food and wine as it permeates their senses. Enlightened references to cuisine may also be found in William Shakespeare's comedies and historical plays, especially The Taming of the Shrew and King Henry IV, Part I, Count Leo Tolstoy's novel, Anna Karenina, Marguerite Yourcenar's reconstruction of the Memories of Hadrian and Peggy Guggenheim's autobiography, The Confessions of an Art Addict.

Moments of ecstasy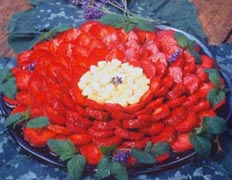 Once at least in the life of every human there is a moment of complete gastronomic satisfaction. There is a kind of harmony where every sensation and emotion is melted into one sublime chord of well-being. Oddly enough, it is difficult for one to describe these moments of ecstasy. Like mystical experiences they are ineffable.
Nonetheless, the most remarkable symphony of food that I have ever experienced was in the frescoed dining room of Coltibuono, the eleventh-century residence of one of Italy's most eminent food connoisseurs, Lorenza de' Medici. My hostess's carefully chosen menu, a series of eighteenth-century Florentine dishes consisting of chestnut truffles, veal roasted in anchovy sauce, washed down with a full-bodied red Chianti wine, was a mouth-watering array of flavours and aromatic subtleties. The dessert, a lavishly prepared tart of chocolate and pear, also proved titillating. Further surprises awaited. After coffee and cognac were served in the magnificent drawing room, I found myself sitting opposite to none other than Dr. Federico Zeri, one of the most renowned authorities of the Italian art-history world. He spoke brilliantly and at length on topics related to food, poetry, wine, sex, adventure and intrigue in the ancient world. As the sun set, we gazed over a majestic landscape of vineyards and olive groves and concluded, without hesitation, that what we had sampled and experienced from Lorenza's kitchen was something truly transcendental.
Indeed, it may well have been one of Lorenza de' Medici's sixteen-century ancestors who changed the history of cuisine and table manners in Western Europe. When Pope Clement VII married off his nice Catherine de' Medici to Henry II of France, the second son of Francis I, in 1533, she not only brought her magnificent collection of Venetian paintings, hand-painted crockery and chests of solid gold cutlery to the French court, but also her cooks. They were probably the first great chefs de cuisine in that land. Undoubtedly, it was with her marriage that the vogue in France for all things Italian took off. The boorish efforts of the French kitchen were replaced by those of the cultivated Florentines. This meant, in effect, the demise of the inflated banquets of medieval times, with their overpowering displays of meat and fowl and their excessive use of spices from the Far East. During the reigns of Louis XIV and Louis XVIII, French cooking, like the visual arts, music and architecture, developed dramatically. Many illustrious individuals including the Baron de' Rothschild, the Duchess of Burgundy, and the Princes de Condé, de Orléans and de Talleyrand encouraged and patronised extraordinary cooks: Vatel, La Varenne, Menon and Antonin Caríme perhaps the greatest of them all. The pleasure of the table had become so important that no intelligent courtesan could afford to be without a highly-developed kitchen. Dining eclipsed its old companion love-making and many a noble lady was coveted more for her chef's skills than the agility of her hips and knees.
The emotional and social connotations connected with food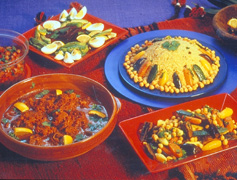 The depiction of food in the fine- and applied-arts, from Renaissance art to Surrealism, conveys an evocative narrative of images, myths and symbols. By examining great works of art we can visually reconstruct a strange and fascinating world. For example, how have we come to associate food with ritual and extravagance, or with certain spiritual and secular festivities.
Evidence of this may be seen in Paolo Veronese's biblical painting of The Wedding Feast of Cana, Caravaggio's Supper at Emmaus, Giuseppe Arcimboldo's fruit and vegetable portraits and sumptuous tapestry designs, Samuel Hofmann's and Jan Steen's Dutch seventeen-century kitchen scenes, Giovanni Battista Crespi's and Vincenzo's Campi's images of the cook and his assistants at work, and Benvenuto Cellini's golden salt-cellar or the banquet sets designed by Leonardo da Vinci for Papal nobility. It is astonishing to learn that a genius of this stature actually spent time designing costumes for social and feasting occasions as well as utensils for the kitchen. Nonetheless, as Sir Kenneth Clark informs us in his learned work on da Vinci, this was precisely what a Renaissance artist was expected to do between Madonnas.
However, with the exception of a number of late nineteenth and early twentieth century artists - notably Claude Monet, Paul Cézanne, Count Henri de Toulouse-Lautrec, Auguste Renoir, Salvador Dali and Pablo Picasso - we find few individuals with an interest in, or an aptitude for, cooking. Monet, Cézanne, Toulouse-Lautrec, Dali and Picasso brought to their art a zest for life as well as an impeccable style. It is exciting to discover that they applied this same exuberance and meticulousness to their cuisine; that they concocted recipes and cooked new dishes worthy of serious attention. Toulouse-Lautrec, for instance, "loved dishes which had been simmered slowly for hours and seasoned with perfect art. He tasted old vintages and liqueurs as a connoisseur. When he clapped his tongue against his palate and pronounced such and such a Burgundy to be like a peacock's tail in the mouth, one was assured that the bouquets of the wine were fruity and rich."
For Picasso, food mixed with art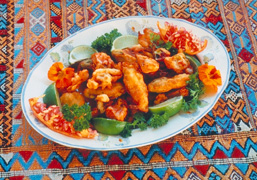 Paul Cézanne, born in Aix-en-Provence in 1839, felt an attachment not only to his birthplace, with its meadows and distant views of Mount Sainte-Victoire, but also to the great tradition of cuisine that developed there over many centuries. This interest would endure throughout his life.

At his family home, Jas de Bouffan - an imposing eighteenth-century mansion set in some thirty- seven acres of enclosed grounds with an adjoining farm - Cézanne painted freely and indulged his passion for provençal food: anchovy paste, patés, bouillabaisse, stews and casseroles, cooked with tomatoes and zucchini, thyme and bay leaves, etc. The Cézanne family ate well and was never in want of fresh fruits and vegetables, local wines, herbal vinegars and olive oils. Cézanne relished the dishes prepared by his mother, his wife and later by his cook, Madame Brémond. When working at his studio in Paris, however, the artist dined in cheap restaurants, and on bread soaked in olive oil. As long as there was olive oil all would be well! In a letter to Emile Zola, the artist once remarked that he created a meagre, though delicious, soup which Lantier, an impoverished artist character based on Cézanne in Zola's novel, L'Oeuvre, would have yearned for. So when Cézanne resided in Jas de Bouffan he very much appreciated the fact that he was well fed and cared for. Auguste Renoir, a frequent visitor to Cézanne's home, was so impressed with his wife's cod brandade that he wrote to Victor Chocquet, a friend and collector of the Impressionists, about his dining experience: "I think I've discovered the ambrosia of the Gods, just taste it and you will surely die a happy man."

Pablo Picasso's also loved to indulge himself in wonderfully prepared meat and fish dishes, as Sir Cecil Beaton, the English fashion photographer, recalls in his diaries. The artist was especially partial to the wonders of Russian Caviar, fine cognacs and champagnes. At dinner parties in London and Paris, where he was always the centre of attention, Picasso's favourite dishes were served, especially local cuisine or the special creations of his friends, including Ambroise's Vollard's curry and Alice B. Toklas's striped sea bass. For Picasso, food mixed with art which it did not for many of his contemporaries in Italy and elsewhere. With the exception of Umberto Boccioni, Giacomo Balla and Gino Severini, few Italian artists responded to Filippo T. Marinetti's controversial manifesto on Futurist cooking - a highly ingenious though totally absurd programme of gastronomic fantasy which he published in Milan in 1930.

Splendour in the company of others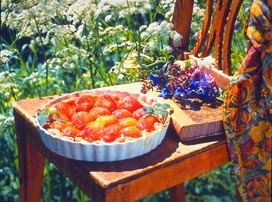 An astute observer of the human condition, a lover of art, music and literature, Mirja von Knorring has absorbed much from the countries in which she has lived - including France, Switzerland, Italy, and Morocco - and has encountered individuals from all walks of life. It was abroad, like Mary K. Fisher, one of America's great twentieth-century food authors, that she started to grow up, study, make love, eat and drink, be herself and not what she was expected to be.
Zest is a book about Finnish artists, their taste in food and their favourite recipes. For such a demanding project von Knorring is singularly well qualified. In the first place, cooking is her interest not her vocation. Since von Knorring is not professionally tied to the kitchen or the herb garden, she is free to lecture and to write articles and books, attend food fares and essential oil conferences, dine in famous restaurants and at the tables of others and is immune from professional criticism and envy. She is a woman of great style and creative energy. One has few options but to accept her as she is: a volcano of incandescent passions, loyalties and prejudices, fierce dedication and occasional intolerance.
For von Knorring, preparing food is a form of therapy and personal entertainment. "Above all," she says, "cooking is a way to delight one's friends and acquaintances. And is there a more pleasant way to spend an evening than lingering over a leisurely meal with fine wine, enchanting company and laughter? The pleasure of taste is located in the tongue and palate, although often it begins not there, but in memory. Recurrent fond memories are barometers of taste. Tasting, after all, is one of the pleasures and imperatives of successful cooking. In order to understand the science of taste, one needs some knowledge of flavour and texture... and the courage to trust one's perceptions. Taste is what you make, how you select, approach, and arrange your ingredients; if it seems a little bland... try using a little more freshly ground black pepper... or a sacramental drop of Irish whiskey, soya or balsamic vinegar. Good cooking is, in many respects, a craft involving nostalgic melodies, sensuous harmonies, herbal aromas melting into delicious concoctions of drama and excitement, infectious gaiety, joie de vive." Her approach, like Roland Pierroz, Simone Beck and Myrtle Allen, brings to mind La Rochefoucauld's aphorism: "To eat is a necessity, but to eat intelligently is an art."
In Anne Willan's book on Great Cooks and their Recipes, we learn that a great number of famous chefs, from Tallevent to Auguste Escoffier, for example, have published their reminiscences. However, in describing their clients, they are at the disadvantage of having known them only as diners, whereas von Knorring has known her guests as friends and acquaintances. In Äminne, one of the great estates of Finland, her hospitality and dinner parties have became legendary. There, she has entertained many prominent figures from the art pantheon: writers, musicians, composers, painters, sculptors, film directors, photographers and many more. Laid with cloths of starched linen and damask, von Knorring's dining-room table always glitters with ostentatious splendour: silver candelabras and crested cutlery, cut crystal, porcelain from England and Portugal and vases of flowers emitting intense and mysterious fragrances. As the French Neo-Impressionist painter Paul Gauguin once observed: "No mean woman can cook [or entertain] well, for it calls for a light hand, a generous spirit, and large heart." In every way, shape and form, with flavours as clear and engaging as the blue petals of borage, von Knorring - like Catherine de' Medici - has softened many a sharp tongue and rough throat.
Gluttony, lust and the loss of one's soul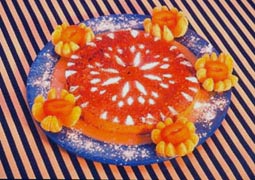 Von Knorring is as talented an observer of contemporary events and culture as she is gifted as a writer. Zest, a masterpiece of clarity and charm, is without equal among works on Finnish artists, their food and their recipes.

Moreover, von Knorring's work, a series of fourteen essays, provide not only a social and historical background of the individuals chosen but also discusses their recipes and creative philosophy. The efforts of several artists prove irresistibly mouth-watering, for example, Johanna Ehrnrooth's aubergine caviar, Stefan Lindford's pike fish rolls, Juhana Blomstedt's peaches stewed in red Burgundy wine. However be warned. In her book entitled Aphrodite, Isabel Allende, the Chilean author, has observed: "The road to gluttony leads straight to lust and, if travelled a little further, to the loss of one's soul. This is why Lutherans, Calvinists, and other aspirants to Christian perfection eat so purely. Catholics, on the other hand, who are born resigned to the concept of original sin and human frailty and who are purified by confession, free to go and sin again, are much more flexible." Flexibility is a vital word in the kitchen just as it is in the artist's studio. Flexibility allows the creative individual to be radical and critical, to reflect on one's goals and the way they are part of a growing tradition. Both the artist and the cook become conscious of the values and rules they are using while the writer and philosopher start to define a corpus of key concepts.

It is difficult to write about art, food and physical pleasure, as the leading American food critic, Geoffrey Steingarten, reminds us without being either coarse or over-delicate, vaguely sentimental, dry or scientific. Zest is none of these. It is near perfection as we know it, and a constant source of wonder. The temptation to quote from its clear, pungent prose is hard to resist. Infinitely better, however, is the companionship of the book itself, for there is no superfluous word in it, no uninteresting thought, no dull page. In this, the splendid and innovative photography of Katja Hagelstam, plays a significant role. To conclude, I would like to quote from the great nineteenth-century English novelist, William Makepeace Thackeray: "Next to eating good dinners, a healthy man with a benevolent turn of mind must like, I think, to read about them." Bon appétit.

Michael Casey

Photographs Oliver Whitehead, except 'Souvenir de Mme. Boullet' in vase by Daphne Filiberti
Cuisine by Mirja von Knorring
---
All Rights Reserved
www.RoseGathering.com