Jacques Cartier or Marquise de Boccella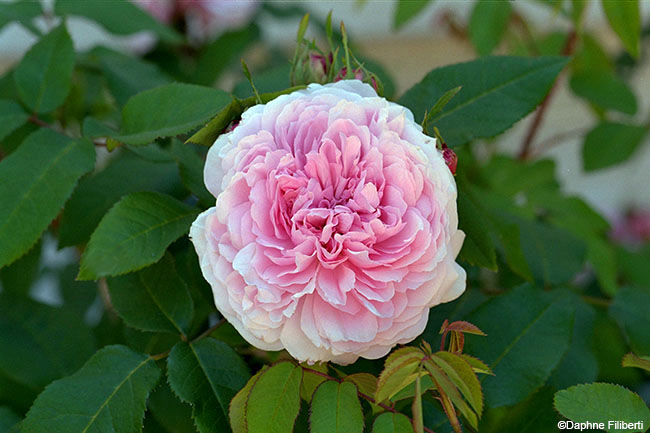 photographed By Daphne Filiberti in her garden

Mike Lowe has told me that 'Jacques Cartier' and 'Marquise de Boccella' are two different roses. 'Marquise (de) Boccella' is almost always sold as 'Jacques Cartier'. The descriptions are the same in all modern text, but Singer described the Marquise as "very vigorous, color clear pink, center darker, flowers large and full". This is not the rose everyone is growing. Mike Lowe also said that his 'Souvenir de McKinley' and 'Julie de Krudner', both from Sangerhausen, are very similar to 'Marquise de Boccella, except for foliage and growth habit.

I got my rose from Pickering and am unsure which it is. My friend, Roch Rollin, said 'Marquise de Boccella' was named after the woman who was married to the marchese Boccella so she was marchesa Boccella, but the rose itself should keep its original name. The Italian title was marchesa Boccella, no particule. In French this happens, but is relatively rare that a title not have a particule, so most people will automatically add one, correct or not. I guess that Desprez and/or Cochet did just that. It is interesting that the exact opposite is done in English. For example: the Earl of Marlborough is called Lord Marlborough. This never happens in French. The French say Monsieur of this and Madame of that. As for the confusion between it and 'Jacques Cartier', what we need is pictures, well documented pictures taken at the same time ( same light, same temperature ), and in the same garden ( same cultural conditions ) preferably; or studio shots like in Martyn and Rix against a plain white background, same film and lighting; and good descriptions pointing out the differences.
---
©2016 Daphne Filiberti
www.RoseGathering.com