Ferdinand Pichard

related pages: photo gallery of bourbons · photo gallery of hybrid perpetuals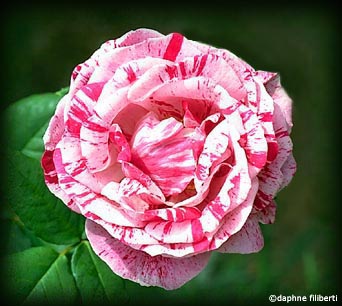 class: Bourbon or Hybrid Perpetual
breeding: Tanne, 1921
photographed by Daphne Filiberti in her garden
another photo of Ferdinand Pichard

Ferdinand Pichard is handsome in the garden, displaying a bit of abstract expressionism in a rose. Each rose on the plant has its own unique blend of colors: A melange of carmine, crimson, purples, and creams splattering in chance striping of color. I have seen this rose listed as a Hybrid Perpetual. Graham Thomas lists it as a Bourbon, and it does seem to go in that grouping. I have had the rose planted for five years in my garden. It is an upright grower, which has branched out to about seven feet high by five feet wide. It does arch down from the weight of blooms. The blooms are stylishly cupped, and elegant against the contrast of the new light green leaves. The scent is like freshly picked raspberries and Damask. There is one main crop of flowers with a scattering of flowers throughout the season. The rose is healthy and does not show signs of any disease. It is one of my favorite striped roses.
---
©2000-2005 Daphne Filiberti
www.RoseGathering.com