The Hybrid Noisette
Rosa Noisettiana Hybrida
Perpetual or Autumnal Roses
Henry B. Ellwanger 1882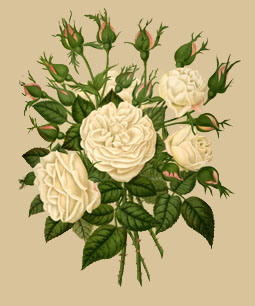 The Hybrid Noisette Rose is a comparatively new group of considerable importance. The varieties of this class generally, though not always, flower in small clusters and bloom very freely throughout the season; they are of about the same degree of hardiness as the Bourbons - that is will winter with perfect safety if given some slight protection, such as hilling up earth about the plants or covering them with loose litter or evergreen branches. It is not easy to ascertain the origin of the class, but the varieties are mostly from crosses of Bourbon on Noisette and vice versa. They all require pretty severe pruning. The most beautiful in the class are Madame Norman, Mdlle. Bonnaire, and Eliza Boelle, a trio of white roses which might well represent the three Graces. There are too strong a resemblance between them to make all desirable in a small collection, but it is difficult to know which of them to reject. Our own preference inclines towards Madame Norman. These are the most delicate in habit; of the stronger growing varieties which partake more of the Noisette character, Coquette des Alpes, Coquette des Blanches (see plate left), and Mme Auguste Perrin are most noteworthy. Baronne de Maynard, Madame Alfred de Rougemont, and Madame François Pittet are worthy a place in collections of considerable extent. Among the Hybrid Noisettes we find two types.
Mademoiselle Bonnaire Type*
The flowers are of medium size, and of circular, very beautiful form. The growth is moderate, or dwarf. The foliage is rather small and somewhat crimpled; the wood light green, fortified with numerous small spines. Though devoid of fragrance, these are our most charming white roes; the flowers are freely produced throughout June and the summer months. The varieties belonging to the type are Eliza Boelle, Madame Norman and Madame Oswald de Kerchove.
Madame A. de Rougemont Type**
The varieties of this type differ greatly from those of the preceding. The habit of growth is free or vigorous; the wood is smoother, the foliage more oval and glaucous, like the Bourbon roses; the flowers are even more freely produced than those of the other type, but are inferior to them in quality. The principal sorts are: Baronne de Maynard, Coquette des Alpes, Coquette des Blanches (see plate above), Madame Auguste Perrin, Madame François Pittet, Perfection des Blanches.
---
*Gravereaux categorized this first group as a distict subclass of Hybrid Perpetuals. He chose Madame Récamier as the prototype for this group.
**Gravereaux also grouped these roses with the Hybrid Noisettes
Text from The Rose by Henry B. Ellwanger, 1882
Illustration of 'Coquette des Blanches' from Le Livre d'Or des Roses by Paul Hariot, 1903
www.RoseGathering.com