Rosa Damascena Italica, La Quatre Saisons d'Italie

related pages: redouté's damasks and biferas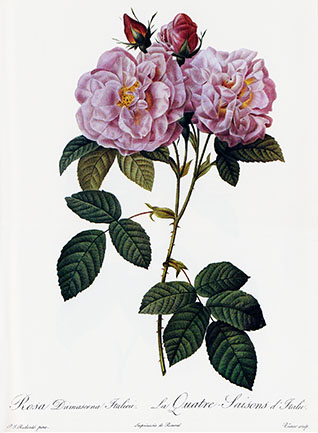 illustrated by Redouté

Thory wrote the following about the rose:

"This rose distinguishes itself among the damascenas by the large size of the flowers, often over 7.5 cm. in diameter, but only on its own roots since the size is noticeably smaller in grafted specimens. Du Pont received it from Florence twenty years ago (1795?) and distributed it. It has little perfume, but makes up for this by its grace and elegance. Although long known, it is still rare, but can be seen grafted in Catel's fine collection. On its own roots it is tender and needs full sun."
---
©2016 Daphne Filiberti
www.RoseGathering.com