Books on Special Plants and Perennials

All are highly recommended. Click on the titles for more information.



American Horticultural Society Practical Guides: Clematis

Author: American Horticultural Society
Please click on to the title to read about the book.

---

Passalong Plants
Author: Steve Bender with Felder Rushing, Foreword by Allen Lacy
Passalongs are plants that have survived in gardens for decades by being handed from one person to another. In this lively book, the authors describe 117 such plants, giving particulars on hardiness and size and include mail-order sources, tips on plant swaps, and more. 82 color photos.

---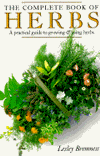 The Complete Book of Herbs
Author: Lesley Bremness
This is a practical guide to using and growing herbs. With more than 340,000 copies sold in hardcover, this essential, full-color resource is now available in paperback. Revealing the enormous potential of herbs, this sourcebook includes information on planting, growing, and harvesting herbs, as well as the main uses of herbs. It also offers an exhaustive identification guide, recipes, ideas for gifts, and much more.

---

The Children's Kitchen Garden
Author: Georgeanne Brennan, Ethel Brennan
This is a book of gardening, cooking, and learning. In France, a child's education simply isn't complete unless it includes an appreciation of the finer things in life. And, in France, that means growing healthful, delicious foods, and cooking them, too. In Berkeley, California, the teachers and students at the East Bay French-American School are working together to implement this model on American soil-and to make it fun! This inspiring, practical resource for parents explains how to teach any child (ages 5 to 12) anywhere the value of growing, harvesting, and eating fresh, wholesome fruits and vegetables. This idea-packed, fun-to-read book brims over with full-color illustrations, recipes, and projects for parents, teachers, and kids.

---

Rodale's Illustrated Encyclopedia of Herbs
Author: Anna Carr, Catherine Cassidy, Kim Wilson, Marjorie Hunt, Ellen Cohen, Alice Decenzo, Judith Benn Hunt, Susan Milius, Claire Kowalchik (Editor), William H. Hylton (Editor)
Valued for its medicinal, savory, or aromatic qualities, an herb is a plant not merely to look at, but also to use. And using herbs is the focus of this book, published by Rodale Press, one of the leading names in the field of health. Compiled by a team of experts, this invaluable reference will teach you how to grow all sorts of herbs, from familiar ones commonly used in cooking to some lesser-known but immensely practical varieties. Discover herb gardens in all their splendid diversity: knot gardens; kitchen gardens; fragrance and cutting gardens. And learn some useful herbal secrets, including which plants can be used to dye yarn or cloth; how to create herbal baths, sachets, and bouquets; and more. 7 1/2" x 9 1/2". Color & Black & White illustrations.

---

A New Book of Salvias: Sages for Every Garden
Author: Betsy Clebsch, Carol D. Barner (Illustrator)
Salvia is derived from the Latin word salvare, to heal, and salvias provides a beneficial addition to any garden. Following the great success of Betsy Clebsch's first book on salvias comes this expanded edition, The New Book of Salvias: Sages for Every Garden. Betsy has added more than 50 new species and cultivars such as Salvia castanea and S. recurva, bringing the total to approximately 150 beautiful, garden-worthy species and significant hybrids. She documents them alphabetically and includes botanical descriptions, information on habit, blooming cycle, recommended companion plants, and delightful historical tidbits of discovery and usage. Nearly 100 new photos and illustrations make this new edition even more attractive than its predecessor.

---

Gardener's Guide to Growing Clematis

Author: Raymond Evison
Please click on to the title to read more.

---

The Rose and the Clematis as Good Companions
Author: John Howells
A very useful, and inspirational reference guide. The author has a mastery of roses and clematis as companions. I used to be intimidated by a notion of growing Clematis. This book has built some confidence, and for that reason alone I have decided that it is a valuable and collectible book.

---

The Art of French Vegetable Gardening
Author: Louisa Jones, Gilles Le Scanff (Photographer), Joelle Caroline Mayer (Photographer)
An original look at the most beautiful French vegetable gardens, this book is both inspirational and practical. It combines 175 original color photos shot throughout France with an informative text. Elements of garden design--including layout, hedging or walls, benches, and vertical accents--are detailed. Includes an extensive list of resources and 80 recipe ideas.

---

The Lavender Garden: Beautiful Varieties to Grow and Gather
Author: Robert Kourik, Deborah Jones (Photographer)
This is a beautifully written work on lavender. The author thoroughly understands and is able to communicate about lavender. Some inspirational recipes are included. For many years, I found it difficult to find information on the different types of lavender, which can be used for cooking, drying, hedging, and so on. You can tell when someone is passionately involved as a gardener. Robert Kouik has a sincerity to his writing. So far the book has been more than accurate in its descriptions.

---
Clematis
Author: Christopher Lloyd, Tom Bennett
Cover not shown.
This book has been a valuable reference guide. Clematis is one of those things that you need to read about to understand. It can be intimidating. The authors of the book understand it well, which can save you loads of time in the garden. Gardening might be something that we can understand innately, Clematis is not (speaking personally).
---

The Botanical Garden: Volume 1: Trees and Shrubs
Author: Roger Phillips, Martyn Rix
These two volumes are beautiful. Volume I covers trees, shrubs and climbers. From the publisher: "The Botanical Garden I and II are exciting additions to a gardening bookshelf. They are visually rich and highly accurate references that will remain interesting, useful and current for many years. Offering a discerning insight into the relationship between garden plants and their natural environments and accuracy that is unequalled outside scientific circles, this duo are truly the modern heirs to a long history of botanical references. There are simply no other works of this kind available today."
---

The Botanical Garden: Volume 2: Perennials and Annuals
Author: Roger Phillips, Martyn Rix
Volume II covers Perennials and Annuals. See above entry.
---

The Random House Book of Perennials: Volume 1
Author: Roger Phillips, Martyn Rix
I love to grow Perennials. These two volumes have been extremely valuable to me. Volume 1 discusses the early Perennials. Some of my favorites that are covered in Volume 1 include: Viola, Iris, and Geranium. These two books would be the first ones I would get on Perennials. Click on the title to read more.

---

The Random House Book of Perennials: Volume 2
Author: Roger Phillips, Martyn Rix
This book discusses the late Perennials. Some of my favorite sections are: Delphinium, Dianthus, Phlox, Stachys, Monarda, Penstemon, Diascia, Digitalis, Campanula, Coreopsis, Hosta, and Aster. What would a garden be without Perennials?

---

Rodale's Illustrated Encyclopedia of Perennials
Author: Ellen Phillips, C. Colston Burrell
At last, a perennial encyclopedia that gardeners can really use--not just look at. It presents 161 major perennial entries, plus hundreds of species and cultivars, all described in detail in the encyclopedia section with complete growing and landscaping information. Charts and tables provide current information on every aspect of perennial gardening--all chemical free. Photos and illustrations, many in color.

---

Lavender: How To Grow and Use the Fragrant Herb
Author: Ellen Spector Platt
A guidebook to the aromatic herb. How to grow and harvest, with ideas for using it in a variety of ways: in the garden landscape, in crafts, and in recipes. Make potpourris, wreaths, garlands, arrangements, even lavender-spiced potato salad, chicken, and bread. Includes directions for drying, and covers varieties, and history.

---

Trees & Shrubs
Author: Sunset Books, Inc., Lois Lovejoy (Illustrator)
A basic and very useful guide to growing trees and shrubs.

---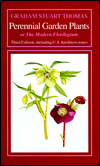 Perennial Garden Plants: Or the Modern Florilegium
Author: Graham Stuart Thomas
One of Britain's great gardeners discusses Perennials and the best way to grow them.

---

Treasured Perennials
Author: Graham Stuart Thomas
The publisher writes, "Over two hundred plants are discussed, most of them illustrated with Thomas's own photographs or those of his friends. The introduction provides us with a background to Thomas's career among plants and in gardens that makes his choice of favorite plants so useful and interesting to other gardeners. There is also a chapter on his other great love: choral music, especially settings of Housman's poems, excerpts of which are selected by Thomas as epigraphs to his chapters on plants."--Book Jacket.

---

Heirloom Vegetable Gardening
Author: William Woys Weaver, Foreword by Peter J. Hatch
A Master Gardener's Guide to Planting, Seed Saving and Cultural History. Weaver focuses on 280 varieties of 37 vegetables in this encyclopedic guide to the history and cultivation of some of America's most treasured heirloom vegetables.

---

Brother Cadfael's Herb Garden
Author: Robin Whiteman, Rob Talbot, Ellis Peters
An Illustrated Companion to Medieval Plants and Their Uses. Brother Cadfael is the world's best-known 12th century monk, a renowned herbalist and a clever sleuth. This succinct history of herbal remedies and monastic herb gardens such as Cadfael's, features a complete A-to-Z guide to the medical uses for every herb and plant mentioned in Ellis Peters' books.

---

Perennial Garden Color for Texas and the South
Author: B. C. Welch, Foreword by Neil Sperry
I have used many of these Perennials in my garden, and I do not live in the South. There is a nice section on Old Garden Roses. A valuable reference book.

---

©2000-2005 Daphne Filiberti
www.RoseGathering.com