Reine Victoria

related pages: photo gallery of bourbons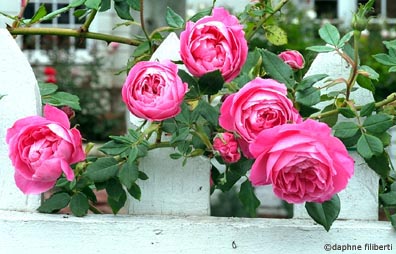 class: Bourbon
breeding: Labruyère/Schwartz, 1872
photographed by Daphne Filiberti in her garden

Roses that held their cupped shape and didn't open completely were very fashionable in the late 1800's. Helen van Pelt Wilson and Leonie Bell describe Reine Victoria and her sport, Mme. Pierre Oger in The Fragrant Year:



"These two are the epitome of globular perfection and resemble the shell flowers made by Victorian ladies. Neither fades in the ususal way but flushes deeper at petal edges until a week-old flower glows flame-rose as though lit from within. This intensifying of color is characteristic of China Roses but never so fascinating as in these Dowager Bourbons."

Reine Victoria has been in my garden for a year now, and has bloomed and grown almost non-stop. The flowers are very fine. The soft scent is of Damask and fruit, noticeably pears. The rose has reached about eight feet, and is trained as a small climber. I have heard that the rose looks wonderful when trained on an obelisk. Apparently the rose's true name is Reine Victoria and the 'La' was added at a later date. The roses benefits from a spot in the garden with good air circulation and good soil; they can develop blackspot.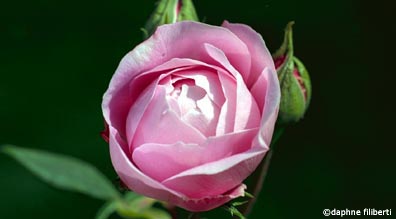 ---
©2000-2005 Daphne Filiberti
www.RoseGathering.com