Pink Grüss an Aachen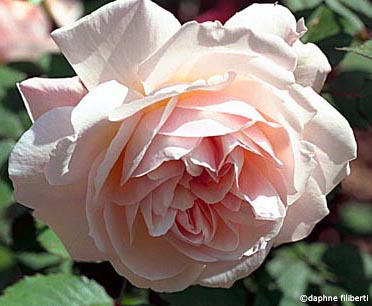 class: Floribunda
breeding: Kluis, 1929
photographed by Daphne Filiberti in her garden
another photo of Pink Grüss an Aachen

I purchased this rose as Irène Watts from Arena Roses. This rose has been identified and is actually Pink Grüss and Aachen. This rose has beautiful bouquets, which are an enchanting infusion of soft yellows, delicate shades of China pink, salmon white, and apricot. The colors can range from soft to deeper shades from time to time. The blooms are about four inches across here in Southern California. They can come in clusters of three or so roses, which open to lovely round rosettes of eye-catching roses. The plants are about two and a half feet tall and wide. The foliage is a deep matte green, margined in purple. They are lovely in a vase, and are sweetly scented of tea and fruit. They are floriferous and free of disease. They can resemble Grüss an Aachen, whose colors are whiter in general.
---
©2000-2005 Daphne Filiberti
www.RoseGathering.com