Rosa rubrifolia Villars written by Ellen Willmott
Also known as Rosa glauca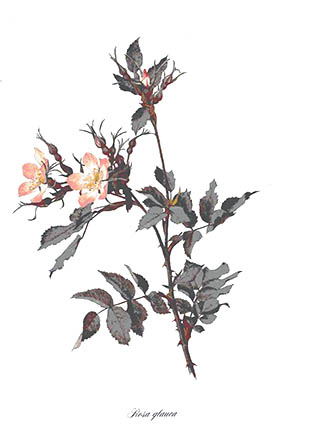 Rosa rubrifolia: caule arcuato; aculeis parvis, sparsis, conformibus, falcatis; foliolis 5-7, oblongis, acutis, simpliciter serratis, utrinque glabris, glaucis, rubro tinctis; rhachi glabra vel parce glandulosa; stipulis longe adnatis, apice libero, ovato; floribus paucis, corymbosis; pedunculis nudis vel parce setosis; calyces tubo globoso, nudo; lobis apice elongates, simplicibus vel parce pinnatifidis, dorso glabris; petalis rubris; stylis liberis, inclusis; fructu parvo, subgloboso, nudo, rubro, pulposo; sepalis deciduis.

R. rubrifolia Villars, Hist. Pl. Dauph. vol. iii. p. 549 (1789).-Rössig, Die Rosen, No. 54 (1802-1820).-Jacquin, Obs. p. 70, t. 106 (1809).-Guimpel, Willdenow & Hayne, Abbild. Deutsch. Holzart. vol. i. p. 119, t. 90 (1815).-Thory in Redouté, Roses, vol. i. p. 31 (1817). Lindley in Bot. Reg. vol. v.t. 430 (1819); Ros Monogr. p. 104, No. 56 (1820).-Koch, Sync. Fl. Germ. p. 225 (1837).-Grenier & Godron, Fl. France, vol. i. p. 557 (1848). K. Koch, Dendrol. vol. i. p. 248 (1869).-Christ, Rosen Schweiz, p. 173 (1873).-Dippel, Handbuch Laubholzk. vol. iii. p. 572 (1893).-Keller in Ascherson & Graebner, Syn. Mitteleur. Fl. vol. vi. p. 60 (1902)-C. K. Schneider, Ill. Handbuch Laubholzk. vol. i. p. 550 (1906).

R. multiflora Reynier in Act. Laus. vol. i. p. 70, t. 6 (non Thunberg)(1784).
R. glauca Pourret, Mém. Acad. Sci. de Toulouse, vol. iii. p. 326 (Extr. Chlor. Narb.)(1788).
R. rubicunda Haller f. in Roemer, Archiv. vol. i. pt. 2, p. 6 (1797).
R. glaucescens Wulfen in Roemer, Archiv. vol. iii. pt. 3, p. 376 (1805).
R. glauca Villars ex Loiseleur in Desvaux, Journ. Bot. vol. ii. P. 336 (1809).
R. rubrifolia, var. laevis Seringe, Mus. Helv. vol. i. p. 9 (1818); in De Candolle, Prodr. vol. ii. p. 609 (1825).
R. gutensteinensis Jacquin, Cat. Hort. Vind. p. 3 (1821).-Sprengel, Syst. Veg. vol. iv. pt. 2, p. 200 (1827).
R. livida Host, Fl. Austr. vol. ii. p. 25 (1831).
R. Ilseana Crépin in Bull. Soc. Bot. Belg. vol. viii. p. 334 (Primit. Monogr. Ros. fasc. i. P. 113 (1869).
R. ferruginea Déséglise in Bull. Soc. Bot. Belg. vol. xv. p. 291 (Cat. Rais. Ros. p. 122[1877]) (1876).-Nyman, Conspect. Fl. Europ. p. 235 (1878).-Burnat & Gremli, Roses Alp. Mar. p. 119 (1879); Suppl. pp. 41, 81 (1882).-Crépin in Bull. Soc. Bot. Belg. vol. xxvii. p. 113 (1888); vol. xxviii. p. 172 (1889); vol. xxx. p. 107 (1891); in Journ. des Roses, 1891, p. 54 (Nouvelle Classif. Ros. p. 16 [1891]).-Keller in Bot. Centr. vol. xlii. p. 131 (1890); vol. xlvii. p. 292 (excl. syn.) (1891),-Koehne, Deutsche Dendrol. p. 291 (1893).-Rehder in Bailey, Cycl. Am. Hort. vol. iv. P. 1553 (1902).

Whole plant glaucous and more or less tinted with red. Stems arching; prickles uniform, scattered, hooked, smaller than those of Rosa canina. Leaflets 5-7, oblong, acute, middle-sized, simply toothed, glabrous on both surfaces, very glaucous; petioles glabrous or slightly glandular; stipules adnate, not gland-ciliated, with ovate, free tips. Flowers usually few, corymbose; peduncles naked or slightly setose. Calyx-tube globose, naked; lobes with a long point, simple or slightly compound, naked on the back. Petals middle-sized, bright red. Styles free, included. Fruit small, subglobose, naked, red and pulpy, ripening in September; sepals deciduous.

---------------------------------

Rosa rubrifolia is distributed from the mountains of central France to the Pyrenees and southern Austria. It is nearly allied to Rosa canina L., but may be distinguished from that species by its very glaucous red-tinted foliage, small globose fruit, and unusually simple sepals. There is a variety, livida Host, with lurid, dark-coloured foliage, and a variety, pubescens Koch, in which the leaves are slightly pubescent beneath. Rosa rubrifolia was introduced into England early in the nineteenth century.

It is a very striking Rose, whether on its native mountains or in the garden. In Switzerland it rarely attains a height of more than five feet, but in English gardens sometimes reaches ten feet. It prefers partial shade, and in the Alps plants growing in a northern aspect are much better coloured and more vigorous than those which are exposed to the south. The name Rosa ferruginea Vill. (1) was discarded by Villars himself, who substituted for it the name rubrifolia (2). In Grenier et Godron, Flore de France, Rosa ferruginea is not mentioned. Grenier does not give it in his Flore Jurassique. Déséglise (3) keeps the name, Rouy (4) does not admit it, neither does Christ, nor Crépin. Keller (5) says that Villars' Rosa ferruginea is not the same as his Rosa rubrifolia.

1. Fl. Delph. p. 46 (1779).
2. Hist. Pl. Dauph. vol. iii. p. 549 (1789).
3. Bull. Soc. Bot. Belg. vol. xv. p. 291 (Cat. Rais. Ros. p. 122 [1877]) (1876).
4. Fl. Fr. vol. vi. p. 341 (1900).
5. In Aescherson & Graebner, Syn. Mitteleur Fl. vol. vi. p. 60 (1901).
---
Text from The Genus Rosa by Ellen Willmott, 1910
Drawing of Rosa rubrifolia by Alfred Parsons
photo of R. glauca
www.RoseGathering.com