Jean-Pierre Vibert
Jean-Pierre Vibert has been spending more time creating new roses now that he has retired as a nurseryman. He has told me that hybridization requires precision and perseverance especially when breeding old shrub roses. At the time of creating these web pages, he was waiting for the first flower from a six year old seedling.
Mr. Vibert was classically trained in all branches of horticulture and arboriculture at the Ecole du Chesnay in Versailles as well as at the Thuilleaux Nurseries at La Celle St Cloud. He worked as a foreman raising small plants in an important nursery in Olivet near Orleans and had occasion to meet many interesting rosarians. He is also a professional teacher of horticulture, trained in Tours. He has always been attracted to old roses, but has only been hybridizing for 15 years.
He often sends dried specimens of his roses with his letters and tells me dried flowers are very important to him. He has practiced drying and preserving roses since he was very young. Collecting plants enabled him to better know the plants, their classification, to compare them and to better understand their multiplication. He was very modest when I asked him the source of his inspiration and responded that he doesn't think he deserves any praise. He simply sees himself as a gardener which seems very natural.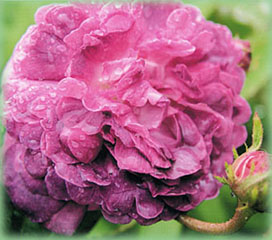 ---

www.RoseGathering.com